El Movimiento para eliminar la agresión sexual (MESA) ha estado sirviendo a la comunidad desde 1972 como el único centro de crisis contra violaciones sirviendo a los condados de Boulder y Broomfield en Colorado.
MESA ofrece apoyo y servicios a TODOS los sobrevivientes de una agresión sexual y no discrimina contra ninguna persona basándose en su raza, etnicidad, identidad de género, orientación sexual, estado socioeconómico, educación, localidad geográfica, edad, habilidad, idioma, origen nacional, cultura, estado migratorio, afiliación política, profesión, creencias religiosas y/o espirituales.
 Nuestra misión:
Nosotros creemos que cada persona tiene el derecho de vivir libre de agresiones sexuales.  Nos estamos moviendo para eliminar la agresión sexual y el sufrimiento que causa en nuestra comunidad.  Desafiamos todo tipo de opresión y reconocemos su conexión con la violencia sexual.
¿Qué es una violencia sexual?
Es cualquier actividad sexual que ocurra sin haberse dado libremente un consentimiento.
¿Cuáles acciones pueden ser una violencia sexual?
La violencia sexual incluye una agresión sexual, un acoso sexual, o haber sido expuesto, sin consentimiento, a materiales de índole sexual. Algunas formas de violencia sexual no incluyen el toque como espiar, exhibicionismo, y acechar.
Una violencia sexual, ya sea de cualquier forma, es inaceptable y nunca es la culpa de la víctima.
What Can Sexual Violence Look Like?
Sexual violence can take many forms, some of which do not involve penetration. It can range from unwanted sexual contact over the clothes, like touching someone's buttocks or fondling their breasts, to rape. Some forms of sexual violence do not even involve touch, such as peeping, stalking, and flashing.
No parar una actividad sexual al estar pedido es una violencia sexual.

MESA puede acompañarte paso a paso durante tu proceso de sanar.
Un promotor estará esperando su llamada en la línea crisis de 24 horas: 303.443.7300
Janine D'Anniballe, Ph.D., Director
Janine D'Anniballe, Ph.D. is a licensed psychologist and a nationally recognized expert in sexual assault, traumatic stress, and treatment for survivors.  A native of Ohio, she received her undergraduate degree from the University of Dayton and her doctorate in Counseling Psychology from the University of Tennessee.  Dr. D'Anniballe currently serves as the Director of Trauma Services at Mental Health Partners in Lafayette, Colorado where she oversees service provision of evidenced-based and evidence-informed trauma focused therapy services.  She also has been the Director of Moving to End Sexual Assault (MESA), the rape crisis center serving Boulder and Broomfield Counties in Colorado for the last 20 years. Dr. D'Anniballe has provided expert testimony in over 60 civil and criminal sexual assault trials across Colorado.  Additionally, she is a registered yoga teacher specializing in trauma-informed yoga.
Martha Hawkinson, Bilingual Victim Advocate
Martha Hawkinson is MESA's Bilingual Victim Advocate, supporting survivors for the past three years after receiving her BA in Spanish and BS in Psychology from Loyola University Chicago. Martha is devoted to empowering survivors in their healing process through medical care support, criminal justice advocacy, immediate needs support, and therapeutic referrals. Her canine counterpart, Fievel, from Canine Companions for Independence, helps Martha's clients feel safe and welcome in MESA's office.
Sarah Dobson, Prevention Education Coordinator
Sarah Dobson grew up in Baltimore, Maryland and earned her M.A. in Gender and Peacebuilding from the UN mandated University for Peace. For the past 10 years, Sarah has worked as a peace educator and advocate. Sarah spent 6 of those years in Central America, and is bilingual in Spanish. She is passionate about cultural change, transformative education, and social and environmental justice.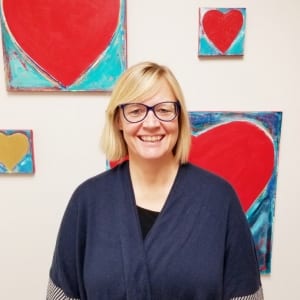 Lindsey Breslin, LSW, Hotline Supervisor
Lindsey Breslin is the Hotline Supervisor. She has over 20 years of experience in the social work field, providing direct service in the areas of gender-based violence, HIV/AIDS prevention, anti-human trafficking, suicide prevention and crisis work.  Lindsey is passionate about providing the best services possible to survivors of sexual violence and working towards ending sexual assault in our community.
Galit Erez, Office Manager
Fievel the Facility Dog, Canine Companions for Independence (CCI)
Fievel received his advanced training from Canine Companions for Independence in Oceanside California and joined the MESA team in May 2018. His main duties at work involve greeting clients, giving love and support, and helping the staff de-stress!  You can follow Fievel on Instagram at @fievelthefacilitydog.